Samsung s21 black screen but vibrates problem solution: If you a samsung s21 smartphone user and you are facing black screen problem in your samsung s21 smartphone and you don't know what to do in this situation and how to solve this problem. If you are going to answer me yes then don't worry we are here for you we will help you in this problem.
Hello to all my samsung s21 smartphone user friends hope you all are doing good in your life. Today hear in this article we will discuss about "How to fix samsung s21 black screen, black screen of death problem". If you are also facing the problem then don't worry i am hear to help you in this black screen, black screen of death problem. Hear in this article we have mentioned the easiest and simplest solution of this problem. You can try it and this will definitely help you in solving your black screen problem problem.
What causes this problem
Software issue – Sometimes our smartphone ui or we can say launchers fails and at that time our smartphone can't response and in this time we see the black screen problem. Sometimes this black doesn't even go after hours and hours of time.
Hardware issues – Issues like dead battery, faulty LCD display, motherboard problem, water damage causes the problem. Those users who facing the problem because of water damage i suggest you keep your smartphone outside in mild sunlight for 1 – 2 hours but be careful. If heat will be extreme then it can permanent damage your device and check this may solve your problem. Many of our readers solved their problem by this trick.
NOTE
If you are facing this black screen problem because of any kind of software problem then it can be solved easily just by force rebooting the smartphone which i have written below. If your problem is because of any hardware issue like LCD panel issue, battery issue, motherboard, water damage or hardware related any issue. For these type of problems this solution won't work. For this what we suggest is take it to any samsung authorised service care and repair your smartphone from their.
How to fix samsung s21 black screen but vibrates problem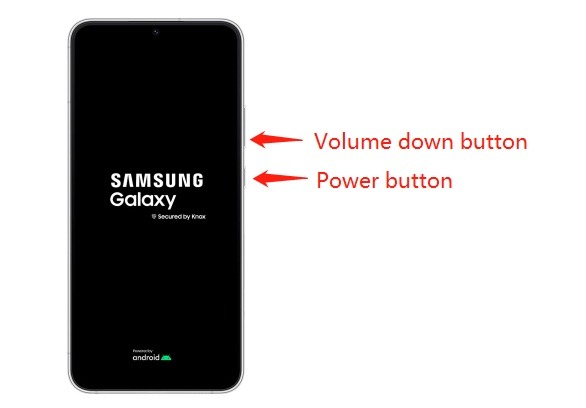 At first press and hold the power button + volume down button for 10 to 15 seconds.
Now after it when you see the samsung logo start appearing on your smartphone screen release both the buttons the power button and volume down button both.
After you do it your smartphone will perform force reboot.
You have to wait and when this process will end you will see your smartphone black screen problem will be solved and your smartphone will be back to normal again.
Hope this article is able to solve your samsung s21 black screen but vibrates problem and it was helpful for you. If you have solved your problem then try checking the smartphone again by disable the auto brightness of your smartphone. Sometimes this also creates the problem so checking it is better so that you will not face the same problem again in future. Most of the time it happens because of kernel panic which i have mentioned above the system ui fail. You can check your smartphone battery also the battery issue is also one of the main cause of this problem.
If anyone of you is there who haven't solved this problem after providing the following solution also. Then hear in this case you can just contact us by commenting below your problem and our team will definitely help you in solving your problem. We are there for you 24*7 we suggest you to please explain your problem properly in the comment section so that it will be easy for us to understand what problem you exactly faceing. After looking at it we can provide you a proper solution which will be able to solve your problem.
Incase if you think that it's an major hardware issue which is causing the problem. In this case what i suggest you is please visit any samsung authorised service centre near your locality and check your smartphone. Service centre people have proper tools where they can identify your smartphone problem. Whether it's battery issue or motherboard whatever the problem will be. They will identify it and they will solve it. If you are warrant then it's just good you can just do your work in free of cost.
For video support
Related articles
Okadtech – Samsung s21 black screen but vibrates problem solution