How to fix lenovo laptop preparing automatic repair; Hello lenovo users if you are facing the problem of "lenovo laptop preparing automatic repair" then this article wll help you to know about this problem like why this problem happens and how you can solve this problem in easy.
At first i want to tell that the thing automatic repair is a window build feature. The feature is build to fix boot related issues on your laptop but sometimes this failed and the user just get frustrated in this issue the laptop will just reboot again and again and in result your device will be stucked and you can't access any thing that's on your laptop.
Why is my laptop saying preparing automatic repair?
Well to be honest there are many reasons why this problem happens in your lenovo laptop but mostly people face issue because of hard drive issues on their device and some because of software failure. There are two main reasons why this problem happens.
How do I fix my Lenovo laptop preparing automatic repair?
Well to fix the problem there are a lot of methods but the methods i have mentioned these are well tested methods and a lot of user's have seen results by applying these methods.
Disclaimer:
If your device contains any important documents, photos, file's or any other important data then better you should recover all your important data before attempting the steps.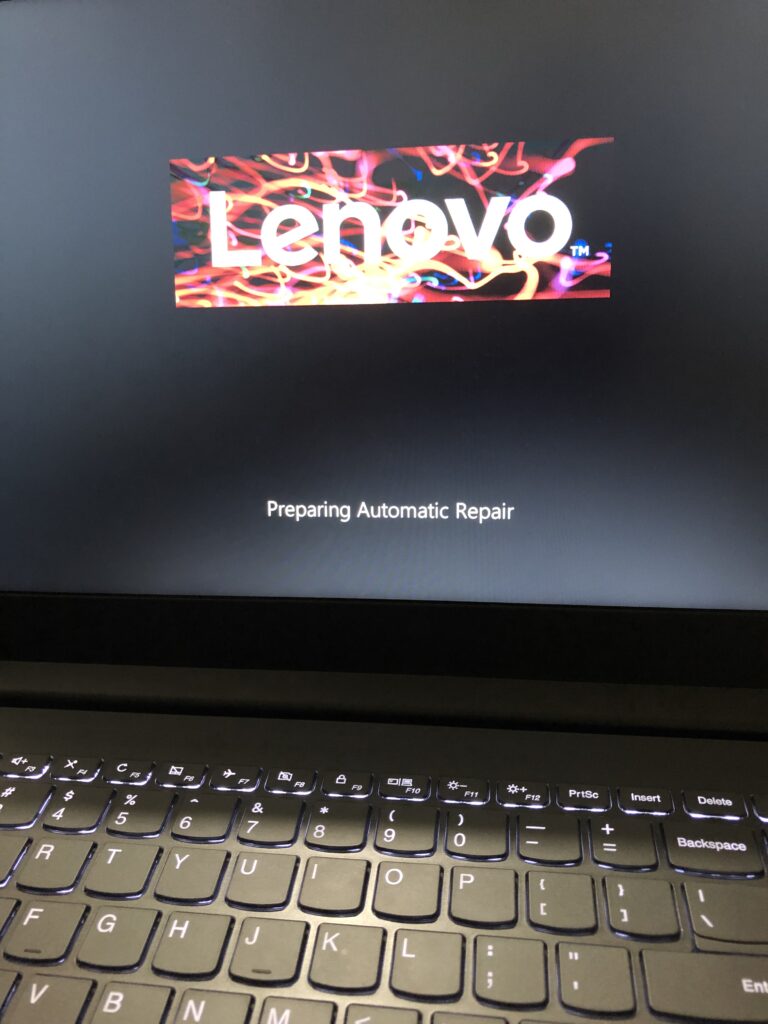 Method 1.
To solve this issue let's start's with the easiest and the simplest method. In this method you have to do is "simply turn off your laptop" and unplug all external devices like pendrive, cd if any thing is connected/ attached with your laptop.
Ways to turn-off the laptop if it is stucked
Simply Press and hold the power key for up to 20-30 seconds to perform a force reboot on your laptop.
If your laptop battery is removable then remove it and if charger is plugged in with the laptop then unplug it.
If your battery non-removale then follow the first trick.
And when this process will end restart your device again and check your problem will be solved.
Method 2.
In method 2 you have to do is
At first turn on your device then press the key "f2".
After pressing the key you will see boot loop settings and if the "f2" doesn't take you to the settings then press "f1" to go into boot settings.
Now just look at your data and time settings in BIOS if it is incorrect then connect it.
Correct all your BIOS by changing it.
After changing it save it and exit down and reboot your device.
Congratulations you have fixed your issue.
Method 3.
If method 3 doesn't work then you can try the method 3 i this
method you have to do is "change your CMOS battery
configuration".
Go to information in BIOS.
Then go to boot and change boot mode UEFI to Legacy support.
Incase if your laptop is on Legacy support then do the reverse change it to UEFI.
Go to security see "secure boot" if it is enabled then disable it.
Save it and exit down and reboot your device.
You will see magic your device will be normal again.
I hope now you all have solved your problem the methods which are mentioned above are all well tested methods and many users have solved their problem through these methods. Incase if anyone didn't get any results by these methods and unable to solve the problem then let me tell you users you have a fault in your operating system. To fix it you have to factory reset your laptop and after it your problem will be solved if this also doesn't work then try to contact with any authorised lenovo service center.
For video support
Related articles
Okadtech – How to fix lenovo laptop preparing automatic repair